Welcome to Eat Your Heart Out
Eat Your Heart Out provides catering services for the Film and Television industry in Victoria, Australia.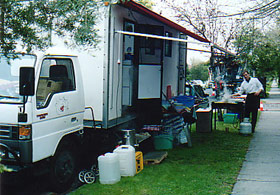 Our kitchen meets the requirements and needs of outside Film and Television catering. We pride ourselves on the highest standards of cuisine and hygiene to provide your principals and crews with a first class choice and variety of meals, freshly prepared by qualified chefs.
Emphasis is on providing an 'attitude free' flexible working environment, that will enable us to adapt quickly to the needs of production management and crew alike.
For the production companies, we will aim to minimise production 'down time', resulting in keeping your crew happy, so that they are free to do what they do best: Make Great Films.